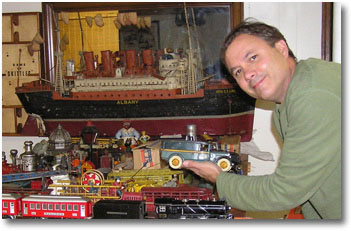 Welcome to our site. Our goal is to bring you the highest quality toys, banks, fine art, Americana and other antiquities from the 19th and early 20th centuries — from some of the top collections in the world. All of our items are GUARANTEED to be original antiques, as described. You will not see reproductions, or fakes here. Many of the items are represented by the top collectors in their fields of expertise.
This site is for people who want the best, investment quality antiques. I don't know about you, but we are tired of wading through thousands of listings at other auction sites, to find original, high quality items. Additionally, the dishonest descriptions and various scams are troubling to sellers and buyers of high-end antiquities. However, we do believe that antiques have their rightful place "online". Our mission is to gain your trust. We will take the initiative to describe and display items correctly — we will stand behind them for quality and authenticity — and they will not be bundled in with reproductions or other misrepresented items.
The name DAKOTApaul came about from my previous company — Dakota Design, an advertising, marketing & internet development company. Although, many picture me as a mid-western, with a cowboy hat — I'm actually from the Philadelphia area where I've spent most of my life. I am married with three children (three teenagers!), and have a passion for collecting antiques. This began over 10 years ago, and has grown ever since. I am currently a member of SBCCA (Still Bank Collectors Club of America) and TCA (Train Collectors Association).
Consignment Information
DAKOTApaul.com is pleased to accept items to be sold on the DAKOTApaul Gallery web site. For more information contact us by clicking here.
E-Commerce Development
Additionally, we are in the business of helping people set up their own website and e-commerce capabilities. If you would like additional information please contact us for a free demonstration.
Please feel free to contact me at any time. I will answer questions to the best of my ability, and if I don't know the answer, I will find someone who does.